Westbeach Condos is a new condominium development by Marlin Spring Developments. Located at 1624-1630 Queen Street East. The proposed modern 6 storey mixed-use building with 62 units will be designed by ICON Architects Inc.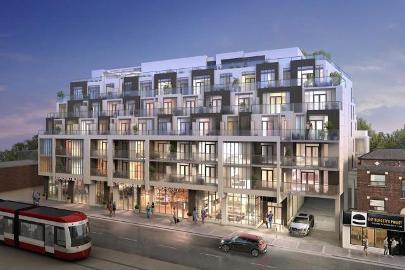 Westbeach Condos is your chance to live in the highly sought after Upper Beaches neighbourhood. This intimate, boutique building with 6 residential floors and under 100 units is just the place you have been looking for.
There is so much to love about this area, from quaint shops to find those original pieces for your home, to the local market where you can get you locally sourced and freshly prepared foods, to Cut n' Run Barbershop – where local Torontonian Drake drops into.
At Westbeach Condos you can take in so much, with local parks such as Orchard Park, Jonathan Ashbridge Park, Woodbine Park, and Ashbridges Bay Park which is "located in a beautiful area on the waterfront in the east end of Toronto" and where you can see yearly firework displays. You are also just a quick drive to Woodbine Beach where you can take a brisk bike ride on Martin Goodman Trail, or a relaxing stroll on the Boardwalk as you head to Ashbridge's Bay Yacht Club. As well as the great amenities offered to you right at home such as: fitness centre, party room, pet wash station, rooftop terrace with bbq, sun loungers, fire pit and seating area, visitors parking, and more.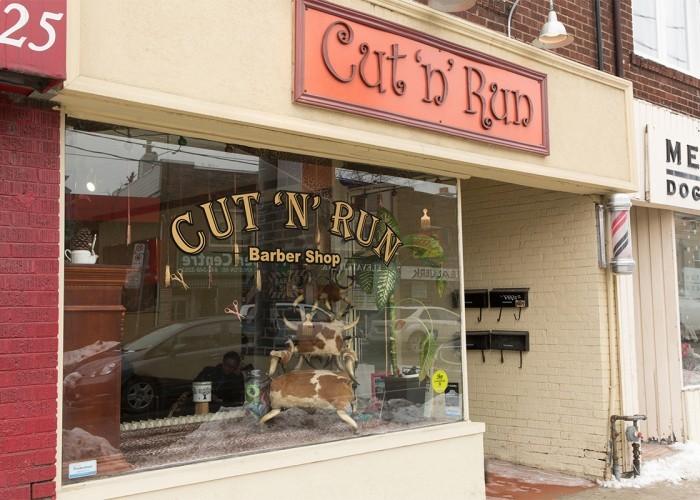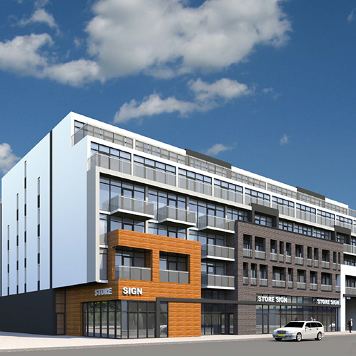 Westbeach Condos is located just to the east of Coxwell Avenue, giving you minutes access to the Waterfront, and next to neighbourhoods like the Beaches, Danforth Village, Leslieville and Fallingbrook. A variety of what Toronto has to offer is at your doorstep at Westbeach Condos.
At Westbeach Condos enjoy luxury amenities, close beach living, stunning skyline and lake views from many of the suites, 9' smooth ceilings, retail on the ground floor to make shopping a bit easy along with allt he restaurants, shops, groveries and more all in walking distance. Along with easy access to the major highways and the Queen streetcar right outside your doorstep. This truly is a new stage of luxury living.
Reasons Why You Will Want to Live at WestBeach Condos
SCHOOLS
The schools located in this area have some of the highest academic averages in core subjects. Providing some of the best extra-curricular programs such as art, music, drama and athletics at the elementary and secondary levels. With extraordinary teachers and staff who support students and this model education system. With a total of 9 public schools and 4 Catholic schools available for children and teenagers in The Beaches.
LOCATION
This community creates a feeling of a security. The Beaches provides a comfortable distance from Toronto's downtown core while still being a part of the city. Streetcar lines and several bus routes connect you to Toronto's downtown. While also providing enough for the younger resident's entertainment close to home such as pools, recreation centres, playgrounds, hockey arenas, soccer fields, artist centres and many more public resources available. The Beaches may be located at the edge of the city, but its not hard to get where you want to go, if need be.
RESIDENTIAL OPTIONS
The Beaches' streets are lined with gorgeous houses. Varying from detached to semi-detached, large, small, contemporary and vintage, giving a unique mixed appeal for house hunters. Residential property in this neighborhood is larger than the average size in Toronto and provides enough space for a large and still growing families.
ACTIVITIES & EVENTS
With several beaches, available there are several options for families to take a day trip to, stroll along or just sit back and relax. Take in the volleyball courts, bike lanes, boat rentals and a beautiful boardwalk. From the beach, you can easily head to Queen Street East, and have a day of shopping in the unique boutique shops, enjoy a meal at any of the many restaurants, and bars all there for you to enjoy.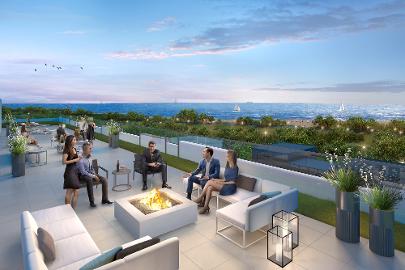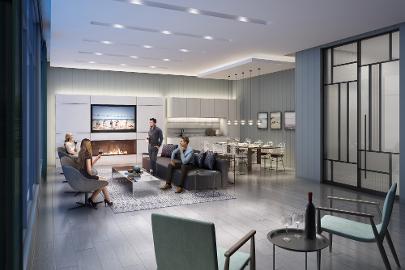 Westbeach Condos Highlights:
Intimate, Boutique building with 6 residential floors
Under 100 units
Sizes range from 1 bedrooms (420-600 sq ft), 1 bedroom and dens (550-over 700 sq ft), 2 bedrooms (650-840 sq ft) and 2 bedroom and dens (715 sq ft- just under 1,200 sq ft)
Pricing ranges from the low $300's to the low $900's*
Amenities include: fitness centre, party room, pet wash station, rooftop terrace with bbq, sun loungers, fire pit and seating area
Visitor Parking
Skyline and Lake views on many suites
Up to 9' smooth finish ceilings (floors 2+3 have 8'6" smooth finish ceilings)
Retail on the ground floor
Restaurants, shops, groceries and the beach all within walking distance. Easy access to highways and Queen streetcar right outside your doorstep
Has a walkscore of 84/100: walkable EVERYWHERE
Located in the Greenwood-Coxwell neighbourhood in Toronto
1 minute walk to the Queen St East at Coxwell Ave Stop
Walking distance to Woodbine Beach
Close to shops, restaurants and schools
13 minute drive to Downtown Toronto
Has a transit score of 85/100: Excellent Transit
Nearby parks include Jonathan Ashbridge Park, Woodbine Park and Main Sewage Treatment Playground
Westbeach Condominiums, by registering you are opting to receive updates, invitations and e-mail offers. We do not share e-mails with third parties. Once you register you will receive e-mail communications of upcoming projects. Note that you can withdraw from receiving e-mail communications anytime by sending us an e-mail or marking the "unsubscribe" box in the future information sent to you. Emil Vojkollari, Broker, B.Comm, Royal Le page Signature Realty, Pre-construction Division. Independently Owned and Operated – Direct: 416 892 6450